Living and Inventing in Panama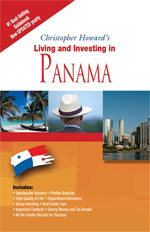 This useful guide contains all the ins and outs and dos and don'ts and much more indispensable secret insider information about all areas of living in Panama.

The 2010 2nd edition of the one-of-a-kind "Living and Investing in Panama." offers invaluable assistance to anyone looking for a safe, affordable place to live outside of the United States.  It guides you step by step and shows how to live on a budget; 100s of sure-fire tips, valuable contacts business resources; how to stay busy and happy; the best places to live in Panama; how to acquire residency; time proven shortcuts for learning Spanish; how take advantage of the many tax savings for foreign residents, how to make the break from the rat race and start a new exciting life; and even how and where to find quality people for companionship.
Product Details
Author: Christopher Howard
Format: E-Book (PDF)
Pages: 408 pages
Edition: 2nd edition (2010)
Language: English
ISBN: 1-881233-46-4