Getting around
Travel to, in, and around Panama
Most direct flights through Miami cost less, however there are flights from your home to Panama City by way of Los Angeles, New York, Washington, DC, Houston, New Orleans or Costa Rica. The airlines currently offering service from the United States to Panama City are Aviateca (800-327-9832), Continental (800-231-0856), Delta (800-221-1212), Mexicana (800-531-7921), Grupo Taca (800-535-8780), American (800-433-7300) and United (800-241-6522) . Lacsa's toll-free number is 800-225-2272 in the U.S.A. and 800-663-2444 in Canada.
Copa 800-359-2672 or www.copaair.com is the country's international airline and has flights to over 30 cities in 20 countries. They now offer direct flights to Los Angeles, Miami ( 2 1/2 hours), Orlando, and Newark.
Panama has two international airports: one in Panama City and the other in David. Tucumen International Airport, near Panama City, is where most international flights arrive. David's Enrique Malek Airport handles flights to and from San José, Costa Rica.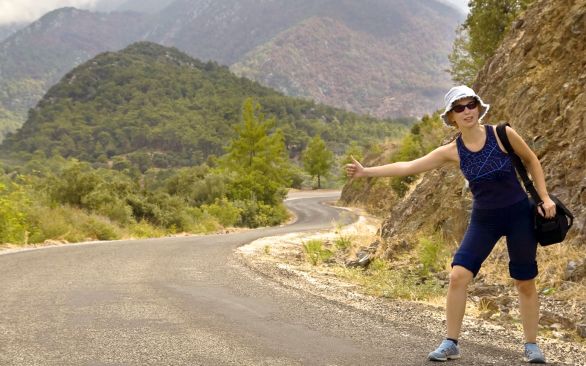 Panama's Taxis
Panama's taxis do not have meters as in to her countries. So remember to discuss the price first to avoid problems. Nevertheless, taxis are affordable. In Panama City, taxi drivers charge by zones. The official rate is $1.00 per zone plus $.25 for each additional person. Tipping the driver is not required. If you have a lot of places to visit, it is better to hire a taxi by the hour for about $7.00.
Taxies are plentiful and can be found around every public square and park, outside discotheque, on most busy streets, and in front of government buildings and most hotels. Be careful since many taxis parked in front of hotels may overcharge. It is better to stop one on the street. Some of the drivers claim they work exclusively for the hotel and will overcharge you.
They will try to double the fare to account for driving back to the hotel.
Driving in Panama
You may use your current driver's license for up to 90 days if you are a tourist. After 90 days you must get a Panamanian driver's license. At present foreigners can obtain a Panamanian license if they possess a valid U.S. license. All permanent residents and retires must have a Panamanian license to drive in Panama.
It is relatively easy to obtain a license if you meet the requirements. In order to obtain a license you will have to have an immigration visa, a passport, valid license from your home country, and pay a fee. You will then have to take a short blood test and take the results to the Ministerio de Gobierno. Your license will be good for the duration of your visa.
Keeping your bearings straight
Panama City extends about 6 miles along the Pacific coast, with Panama Bay to the south, The Panama canal to the west, Forest to the north, and the ruins of Panama Vieja on the east. In Panama City the avenues run parallel to the coast, with streets running perpendicularly. The city has three almost parallel streets which run east to west. Avenida Balboa runs along the Pacific Ocean and eventually turns inland at the ruins of Panama Viejo. Vía Transístmica leads out of the city to Colón. Vía España is located between Avenida Balboa and Vía Transístmica and is lined with shopping malls, restaurants, and more. The city is divided into dozens of neighborhoods. Be aware that some streets change names all of a sudden.
Be careful when trying to find your way around since many of the streets have several names. Therefore, it is easier to refer to landmarks like a church or specific building to get your bearings. The locals use known landmarks to get around, to locate addresses, and give directions. For example, in finding a house someone might say, "From Saint Paul's Church, 200 meters west and 300 meters south." If you are unfamiliar with this system, it is almost impossible to find your way around, and easy to get lost. Do not worry, after you have lived in Panama City awhile, you will get used to this system. In the event you get lost, you can always ask Panamanians for directions—provided you understand a little Spanish or they speak some English.As you know, Panamanians are generally very friendly and are usually happy to help you find the address you are looking for. However, it is always a good idea to ask a second person, because most Panameños are embarrassed to admit they do not know an address and will sometimes give you directions whether they know where you want to go or not.