Where to Live in Panama
Panama City is a blend of modern and Spanish colonial next to tropical rain forests and the Pacific Ocean. It is also country's capital, the center of government and definitely place for those who like the stimulation of living in a modern cosmopolitan metropolis. So many people pass through Panama that it is sometimes referred to as the "Crossroads of the World." International cuisine, excellent shopping and a variety of nightlife further add to the cities cosmopolitan flavor.
With a population over 700,000, PanamaCity is home to more than a third of country's people. It is also is a bustling center of international banking and commerce with first world infrastructure. The original city was originally founded the the Spaniard Pedro Arias Dávila in 1519.
Panama City runs about 7 miles along the Pacific Coast, with Panama Bay (La Bahía de Panamá) and the Pacific Ocean on the south, the Panama Canal on the west and the ruins of Panama la Vieja to the east. Most avenues run parallel to the coast with streets running perpendicularly.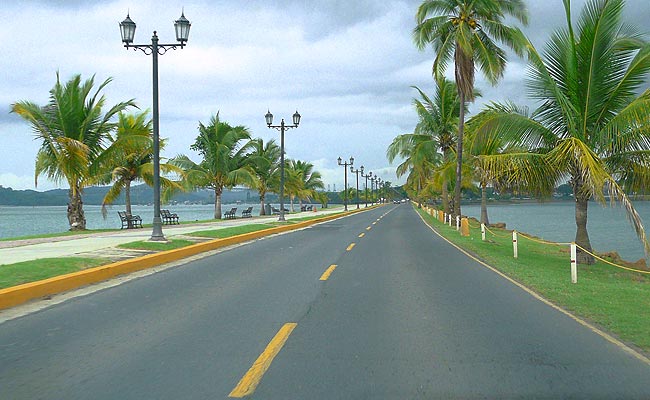 The Calzada Amador or Amador Causeway is one of the city's salient features. The causeway is a two-mile palm lined street which juts out into Panama Bay, and offers magnificent views of the city's skyline. It is dotted with bars and restaurants on its islands and has a marina on Isla Flamenco.
Modern day Panama City boasts a wide range of architecture, from stately 16th century homes in Casco Viejo, the oldest part of the city, to the city's imposing Miami-like string of high-rise buildings. PrestigiousneighborhoodslikeAltodeGolf,DosMaresaboundwith greenery and flowers. Other areas as Obarrio, Campo Alegre, Paitilla and El Cangrejo teem with interesting buildings and designs.
The city's other treasures include a palm-lined Malecón (waterfront promenade), the historic ruins of Panama la Vieja and much more. There is even a rainforest reserve within the city limits at Parque Metropolitano.
Panama City has perhaps the best shopping in Central America. Therefore it attracts visitors from neighboring countries. Over 50,000 Americans lived in Panama prior to the canal being turned over to the Panamanian government in 2000. Due to this long­time presence of U.S. citizens in the country, American products are easily found. Prices are similar to what they are in the States. Foreign residents can find many products from their home town. There are dozens of shopping centers to meet your needs. The discount stores that dot the Avendia Central pedestrian mall and Vía España offer first-class shopping. Thanks to low import duties, shoppers can find incredible bargains. The upscale shops on Calle 53 and Avenida 2 Sur/Samuel Lewis also have good shopping.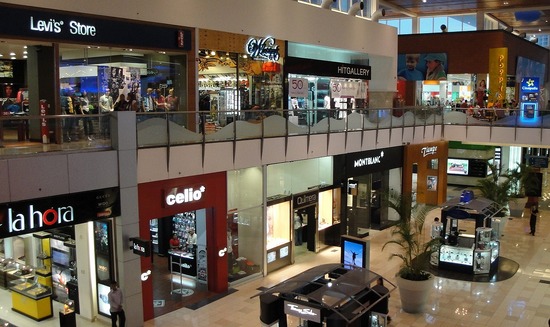 There is no shortage of urban amenities in Panama City. Panamanians love nightlife and there are numerous establishments where you can always find some action. In addition, the city offers more than 300 international restaurants, modern supermarkets, theaters, movie theaters, discos, bars, cabarets, casinos and more. Vía Argentina, Casco Viejo and Calle 53 in Marbella are areas where there is good nightlife and clubs.
Familiar spots like TGIF Fridays can even be found here. Entertainment costs about half the price you'd pay in any U.S. city. Visitors remark that the city reminds them of Miami but prices are much more reasonable.
For sports enthusiasts there is an American-style golf and country club located near the city. Nature lovers will find rainforests and beaches nearby. 
The city's infrastructure is excellent. This is primarily due to the long U.S. presence in the area. Most streets in the city are paved with concrete instead of asphalt. The downtown area has a real first-world ambience. Tocumen International Airport is located about 20 miles from downtown Panama City. It is easy to get around the city by using taxis and public transportation.
Here are some of the areas where you might want to consider living, taking different tastesandbudgetsinto consideration.Athree bedroom apartment in Panama City can be purchased for under $100,000; a home on a former military base may cost $70,000 to $150,000; and a new condo in a high rise in Punta Paitilla will go for around $150,000 to $275,000. Land in the countryside or a small town is much less expensive.
Panama City is divided into a series of neighborhoods or vecindarios. The city's old section, Casco Viejo or 'old city", was founded in 1673 as a fort by Antonio Fernández de Códoba y Mendoza after Henry Morgan sacked and destroyed the original Panama City. It is the historic center of today's capital. In 1997 UNESCO declared it a World Heritage Site due to the old Spanish colonial architecture which blendswith buildingsinspiredbyFrench,Italian andAmerican architecture. The best way to see this area is on foot.